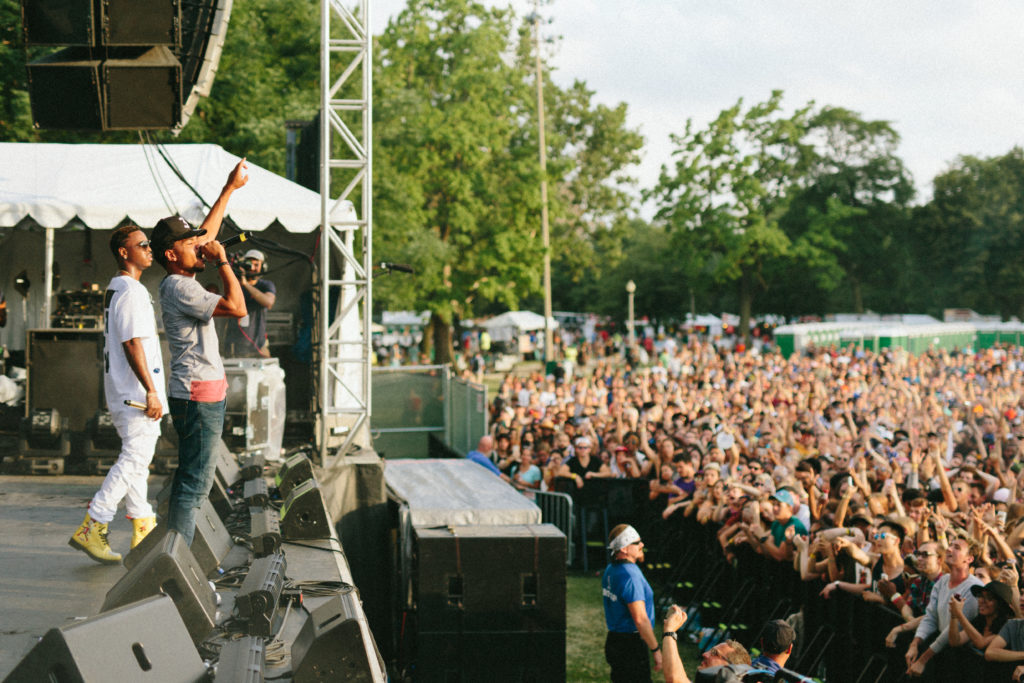 By: Brett Perry Photo: Garrett Duncan This is my first time attending Pitchfork and I was stoked with all the possibilities the festival had to offer. I had studied the lineup for weeks and researched artists to get a better understanding of who I was going to be seeing. I loved how people could walk around the festival grounds and get a glimpse into the current state of music. From hometown hero Jeremih (who called out Chance the Rapper and the place went absolutely bonkers), to the all girl rock band Savages (would love to see these ladies in a smaller venue like Neurolux in Boise ID), to the undeniably dance worthy tracks of Holy Ghost!, to the sweet sultry voice of Miguel (who I wish I would have seen more of, that voice!). Pitchfork introduced me to some artists I did not know including Jlin, a DJ who is producing tracks for the Chicago dance craze, Footwork. Overall, it was an awesome experience. Here are a few of my favorite moments from the weekend.
Photo: Matt Lief Anderson
FKA Twigs
FKA Twigs is an artist that has been on my radar for awhile now. Each new track she pushes out is more clever and detailed than the last. I have loved watching her growth not only as a musician but also as a performer. Her involvement in the vogue ball scene added extra bonus points to a star that already had her finger firmly on the pulse of what is happening and what is to come. Consequence of Sound had wrote about a new show that FKA Twigs was debuting a few weeks earlier and I couldn't have been more excited to see her live. She did not disappoint. The show was incredible and something that will stay with me for a long time. Not only can the woman sing, she also put on a dance show that was detailed, nuanced and captivating. Everything was choreographed down to FKA's deliciously juicy wrist rolls. The show was so full of theatrics that it could rival any stage production happening right now.
I had the opportunity to perform with Preservation Hall Jazz Band for 5 years and know how hard it is to get a music crowd interested in a dance performance. Maybe we are seeing the next wave of shows in the music scene. Sia has put on captivating dance shows that has shown the world what it is like to mix live music and dance on the same stage. I felt FKA had the audience in the palm of her hand from beginning to end. I look forward to seeing what she keeps brings to the music world. Also just read about her movie, Soundtrack 7, she is delivering next in NYC. The girl is out there doing her thing. Don't sleep on Miss FKA Twigs.
Photo: Garrett Duncan
Anderson .Paak
I first heard about Anderson .Paak through his performance this past Coachella. I immediately purchased his new album, Malibu, and haven't stopped listening since. His music feels incredibly fresh with a balanced blend of R&B, rock, and hip hop--like a refreshing music smoothie. Once the sound booth got all the kinks out (the crowd chanted "turn it up, turn it up" after the first 2 songs) we were finally ready to go. Anderson .Paak is all over that stage! He is dancing, singing his ass off, and at times sitting down at the drums to blow your mind with his skills as a drummer. I could have listened and watched a couple more hours of his show. This is a performance not to miss. He closed with a 15-second David Bowie tribute playing a wee taste of "Let's Dance". More Anderson please!
Photo: Matt Lief Anderson
Blood Orange
Dev Hynes is what we all need in our lives right now. His music is relevant, he makes you feel happy and he makes you want to hug your neighbor. It is feel good music at its finest. I started listening to Blood Orange only recently and seeing him live has me totally hooked. His sounds remind me of something from the past but injected with new energy.  Something was nostalgic about his presence on stage, but also something so fresh. Dev has an incredible band backing him and I look forward to seeing how he grows as an artist. I walked away with a huge smile on my face and rejuvenated for the rest of the day.
Chicago has been a city I have been traveling to most of my life. I grew up 3 hours south in Indianapolis. It's fun to continue to get to know the creative community in this fine city. Along with my Chicago friends, I had a crew of festival goers from Treefort Music Fest (Boise, Idaho) in attendance. It was great to see the Boise and Chicago crews have conversations about their personal experiences within the festival. What is it that we love and what would we want to make better? These are important conversations to continue to have. Festivals bring people together and ignite dialogue. People seem to be at their best during a festival. People are happy. People are dancing. We are all there for a common goal and that is to share in our love of music. One little critique is that I thought the onsite festival decor could have been more consistent with the digital designs, but Pitchfork feels humble. It brings the people great music and it seems like it is sticking to that formula. One thing we can take away from Pitchfork Fest: the crowds go crazy over a good horn section these days.