Enjoy our review of Sunday at Treasure Island Festival 2014. Also check out our Saturday reviews and photos album of Treasure Island 2014.
Banks: As a cloudier Sunday rolled in fog banks and wind, Banks took the stage in a black dress with her two bandmates also dressed in black as they dug into their minimal, hazy R&B. "It's fucking windy on this stage!" she exclaimed, after the first song. But it seemed fitting. Her keyboardist meddled with string samples as the drummer played a live kit and pad across the stage. The crowd's hand waves meshed with Banks' breakdowns. She thanked everyone for the final stop of her recent headline tour. And while they might've been a bit tired, they ended the set with a spirited "Begging for Thread".
The New Pornographers: The logo mechanism hanging above main stage had some issues, so they ushered everyone away from the stage, sent a tech up there and fixed it just before the set. Then everyone rushed in as the New Pornos took the stage. Say what you want about "super group" or not, but it was quickly and certainly apparent that this New Pornographers are a group of people who have been music professionals--and successful professionals at that--for several decades. And they've obviously played together once or twice.   Neko Case, AC Newman, Dan Bejar (Destroyer) climbed their way up the hard hard way via lots of shows and staying on the grind. Contrast that to our current buzzband era, where a band like Cathedrals can occupy a main festival stage after only three shows (via HypeMachine fame). They traded vocal leads and harmonies, swapped instruments and nailed call and responses verses very cohesively. They only played only one song from Twin Cinema, mostly focusing on Brill Builders. More than a few people felt the set was a bit too professional, as they weren't the most animated and Neko Case came out in a hoodie in jeans. And compared to fellow indie success staples TV on the Radio, New Pornos didn't seem as jazzed to be there. But they were definitely tight and on it.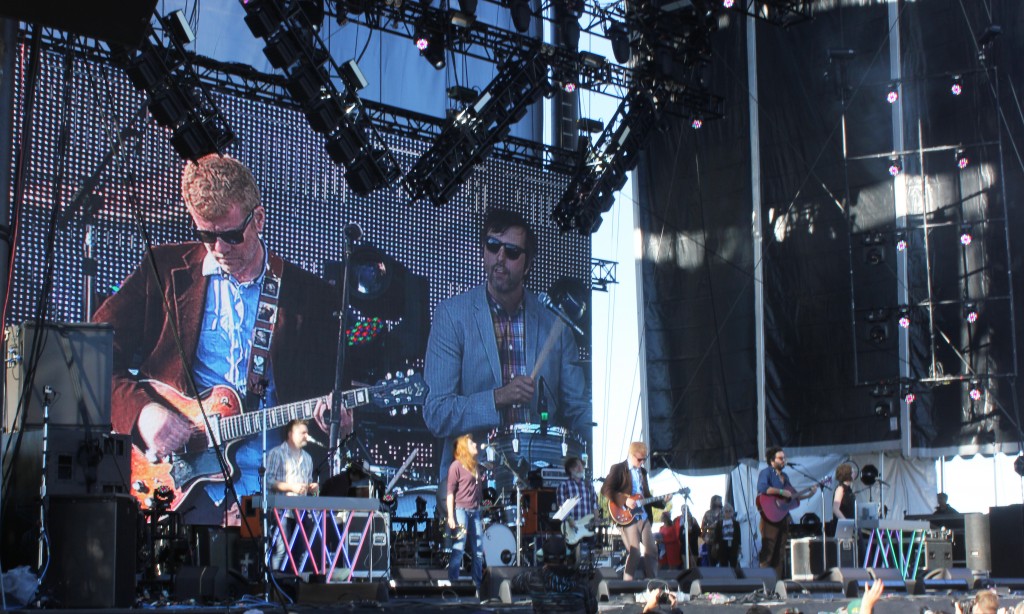 Chet Faker: With the glowing sun headed down, a silhouetted San Francisco in the background and Ferris wheel to the side, Chet Faker had quite the epic stage. Chet was up front on the keys, with a guitarist to his left, and a drummer playing a kit and loops on the opposite side. As Chet's set pushed on, he was waking around, admiring the scene behind him and crowd before him. There was more stage presence than I'd expected given the nature of his tunes. The instrumentation sounded excellent. Chet's vocals were pretty low in mix, but that seemed intentional. Considering the style of the jams, the put on an energetic set. While he released a new album this year, he acknowledged he has "been doing music for a few years. And it's been a trip. Let me take you back to where is started" and then launched into "No Diggity". Fitting grooves for a beautiful scene.

TV on the Radio: There was quite a bit of anticipation for the Brooklyn band's set. TVOTR emerged and started with "Young Liars". They were dynamic. They were excited. They were ready to go. They fired through a mix of older material before Kyp Malone askedm "you want some new music from TV on the Radio?" And we most definitely did. So they marched through new tunes from new Seeds LP, with the band eagerly playing as Tunde bounced around. Things peaked as the band hit "Wolf Like Me" in full force. And while many of us would've enjoyed hearing "Starring At The Sun", TVOTR gave us one of the weekend's best sets.

alt-J: A number of festival patrons thought alt-J should've handled Sunday's headlining duties instead of Massive Attack. Based on the relative crowds, I think they were right. Anyhow, the Leeds band emerged amidst a sea of red lights to open with "Hunger of the Pine". While the chill nature of their music naturally puts a ceiling on the live performance, relative to say TV on the Radio or other full-on rock bands, alt-J did an excellent job of filling the main stage, wielding dynamism and sounding big. They moved onto "Something Good", "Matilda". and "Tessellate". Their big ole' bass and booming drums echoed building a tetrahedral sound castle above the audience. They noted, "we haven't played half these songs at a festival before. It's totally different".  They mixed in songs from the new album This Is All Yours including "Lovely Day".
"Tonight made up for a whole summer with no festivals," they added, before ending with "Breezeblocks".
Top Photo by Catie Laffoon