Primavera Sound 2016 arrived to Barcelona's Parc de Forum after the festival's initial club shows, panels and day events throughout Barcelona earlier in the week. From 4pm all the way until 6am, Thursday at Primavera Sound 2016 offered up a feast of a lineup. Enjoy our recap and stay tuned for Primavera coverage throughout the week. (Photo: Eric Pamies)
Air
Air soundtracked the sundown with ambient vibes at the H&M stage, where Tame Impala would play just a few hours later. Headlining sets here alternate times with the adjacent Heineken stage. I would love to get attendance capacity of the full field, but Air had it fairly packed. The "elder" Frenchmen don't get to the States as often these days, so Primavera's geographical advantage made for a great opportunity to catch them live. Air's founding members Nicolas Godin and Jean-Benoît Dunckel were joined with two other bandmates as they showered the crowd with fittingly low key instrumentals during Barcelona's dusk. (Photo by Eric Pamies)
Suuns
Contrary to Air's dreamtime lullabies, Suuns' thundering bass synth could be heard from a kilometer away. Of course, the Montreal group balance this with hypnotic vocals and sharp guitar lines in their anthemic droning tracks. They fired off songs from their new
Hold/Still
album, released this April. The live rendition of  "Resistance", with its constant crescendo, showed off the new material. It was massive. It was powerful. It was haunting. Their set felt as though they channeled the depths of the Montreal winter to the 65 degree Mediterranean shore.
Vince Staples
The Long Beach, CA rapper emerged to a swollen crowd at the Pitchfork state with a "bounce" chant and immediately jumped into his 
Summertime '06 
effective opener "Lift Me Up". Staples' energy eclipsed any of the day's earlier acts and the crowd bit in. With a quick "Hi", Staples then went all in on "Jump of the Roof" and "Lemme Know". He bounced around the entire stage with jump kicks that rivaled 
Draymond Green
. With a quick interlude, he said he was from Long Beach and asked how many people knew of him before tonight (nearly the whole crowd let him know). He gave 
Summertime '06 
a shout out and followed up with "Birds & Bees" and "Surf". With a little more light banter, he introduced his DJ, then acknowledged he was offered weed earlier but declined. "Don't do drugs. You can live a beautiful life without drugs," he jested before starting "With You" followed by "Smoke & Retribution" (a Flume track) and "Fire". Staples shifted gears, telling the crowd, "I'm from the Unites States, that's a long way from here. People don't like to leave, we don't get out. In the US, we have a big issue with cops killing people," that eventually ignited an FTP chant as he began "Hands Up". He rounded out one of the day's most passionate sets with "Street Punks" and "Dopeman" as the eager crowd cheered on.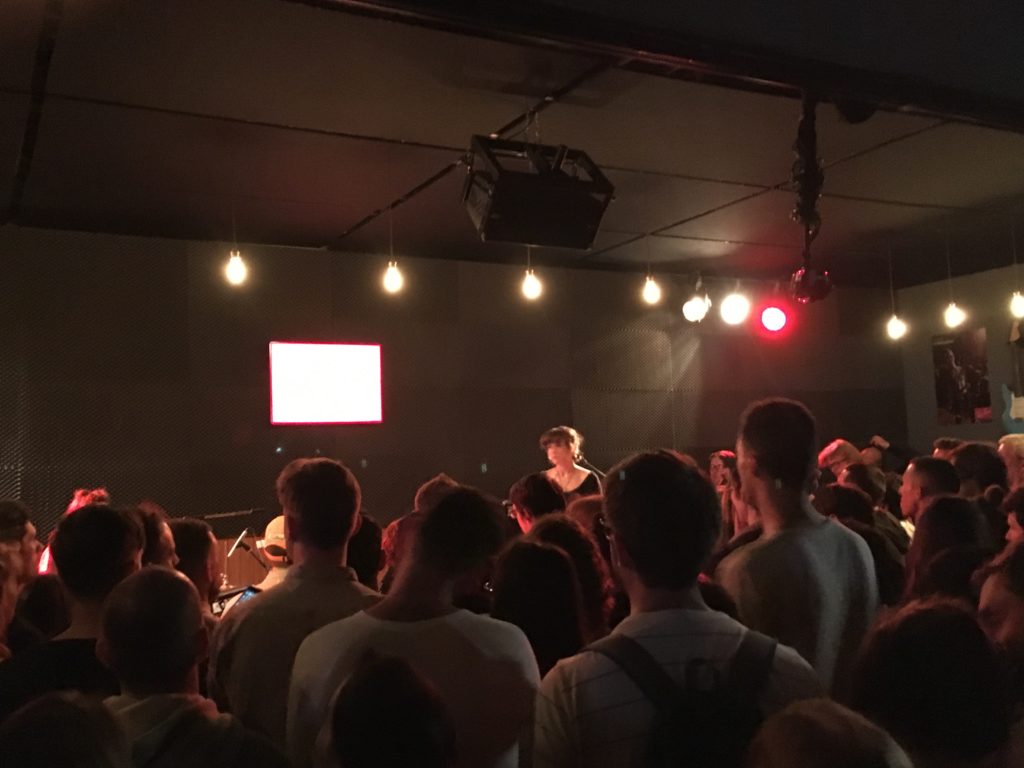 Jessy Lanza
Ontario, Canada's Jessy Lanza played Barcelona's BARTS with Empress Of on Wednesday night as part of Primavera's Club series. Unfortunately, I did not make that show. However, Primavera also scheduled her again at Parc de Forum on Thursday. Lanza played the shoebox-sized Rayban's Unplugged stage for a quick 35 minute set. After some initial feedback issues, Lanza settled in tracks from her excellent new 
Oh No 
album. Her vocals, warbling synths and drummer's minimal beats whipped up a frenzy. I'm filing this one under the "shows I'd love to see in a real club ASAP" tag. It was hard for Jessy Lanza to get the full dance party she deserved a stage no bigger than shipping container. But the set was still intimate in a unique way. Plus "
VV Violence
" and "It Means I Love You" sounded fantastic.
Tame Impala
The Australian jetsetters began their H&M stage headlining set with 
Currents' 
opener "
Let It Happen
". Tens of thousands in the crowd cheered on Kevin Parker's seven minute psyche dance track and it was clear the band would have no trouble converting 
Currents 
material to the stage. They moved back to 
Lonerism 
tracks "Mind Mischief" and "Why Won't She Talk to Me?" fluidly. Parker thanked the crowd and shared the band had been "waiting a long, long time for this. Way too long." They veered into 
Innerspeaker
's "Not Meant To Be" then returned to 
Currents' 
"The Moment". Given that many saw 
Currents 
as a huge departure from Tame Impala's psyche rock oriented earlier material, it was interesting to see how seamlessly the band stitched the gap together during their set. On the whole, the band handled the transitions well, as Jay Watson's backup vocals paired nicely with Parker's, per usual. Some of the track pairings felt somewhat odd (going from poignant breakup album material to the booze ad single "Elephant"), yet the band kept the overall atmosphere light during 
Currents 
material. They gave shouts out to Air, whom held the stage earlier. Watson mentioned the band tried to sneak into Air's show once, "half got in, half didn't." They played "Yes, I'm Changing", "The Less I Know the Better" and "Eventually" before the stage's sound completely failed during the bridge of the lattermost. This was an odd sight to see as the sound was out for a good 15 minutes. But Tame Impala....eventually (had to) came back in at the exact moment in the song where the sound failed. "Apocalypse Dreams", "Feels Like We Only Go Backwards" and "New Person Same Old Mistakes" wrapped up their engaging headline set. (Photo by Eric Pamies)
LCD Soundsystem
LCD Soundsystem's first European show since their hiatus kicked off to the tune of "Us v Them". Right out of the gate, James Murphy's obvious glee was visible. His smiles showed an on-stage manifestation of the sincerity we found in his "
return letter
" earlier this year. As their warm presence filled the stage, any cynical fault for "the comeback" evaporated. They hit "Daft Punk is Playing At My House" with an intensity that harkened the line "Nothing's ever tough enough // Until we hit the road" from "You Wanted A Hit". Murphy noted the band played Primavera 
13 years
ago "when it was very small"
before "I Can Change". Next came "Get Innocuous", "You Wanted a Hit", "Tribulations" and "Movement". They were absolutely on. Zero beats were skipped. It makes you wonder if they could've channeled this type of intensity had they kept touring over the past five years. Regardless, "Yeah" sounded as tight as ever and 46 year old James Murphy completely delivered every ounce of that track. "Somebody Great" followed and demonstrated the skill of LCD, as they pulled off the full throttle "dare you to match this" intensity of "Yeah" right into the nuanced poignance of "Someone Great".
Murphy acknowledged this was the band's first show back in Europe and "how great it is to play in Spain". They played "Losing My Edge" with ad-libbed sections including "
my 
80's", a "chorus verse chorus" joke on the Captain Beefhart section and they received cheers on the "Ibiza 1988" line. "Home", "NY I Love You..." and "All My Friends" completed the emotional, on point set. LCD Soudsystem, it's sure great to have you back.
Neon Indian
Even at 3am, stages were completely packed (including Battles at the Rayban stage). As a nocturnal American this makes me green with envy. More on this in our festival summary article. Anyhow, Alan Palomo was out with the full band. He noted they were from the states, but he's originally from Mexico. The band delivered the new 
Vega Intl Night School 
material masterfully. The upbeat, danceable tracks fit perfectly at 3am. Palomo's stage presence and dance moves were amazing. It's wonderful to see how Palomo has transition the project and sound since 
Psychic Chasms. 
A well picked set by Primavera to cap off Thursday night.