Noise Pop 2016 rolled on in the Bay Area as California's own jazz master Kamasi Washington played two, consecutive sold out shows at the Independent on Thursday night. Now there's "sold out" at the Independent. And then there's "10% over max capacity, good luck getting through the door, let alone making it to the bathroom" sold out. Kamasi yielded the latter.
Undoubtedly, Kamasi Washington was introduced to many new listeners via his proficient instrumental contributions to Kendrick Lamar's To Pimp A Butterfly. Those with piqued interests were sold by Kamasi's own 2015 release, The Epic, which features a full three hours of equally engaging and varied jazz. The attendance and crowd vigor at the Independent proved Kamasi's music has certainly built an audience since The Epic's May 2015 release.
Kamasi's seven-piece band featured vocalist Patrice Quinn, trombonist Ryan Porter, bassist Miles Mosley, a saxophonist and two full kit drummers. The band's cohesive talent shined through immediately. When Kamasi noted, "I've got the baddest rhythm section in the whole world," few in the building would've disagreed. The band's stylistic range expanded through the set: from funk to staccato brass scales to cabaret jazz, their instrumental skill was on par with anything I've personally seen at the Independent. A set highlight featured Kamasi bringing out his father Rickey Washington--an accomplished saxophonist and flutist--for a song dedicated to Kamasi's grandmother. "This is about a very strong woman. She gave love to those around her without regret," he shared, before diving into the song.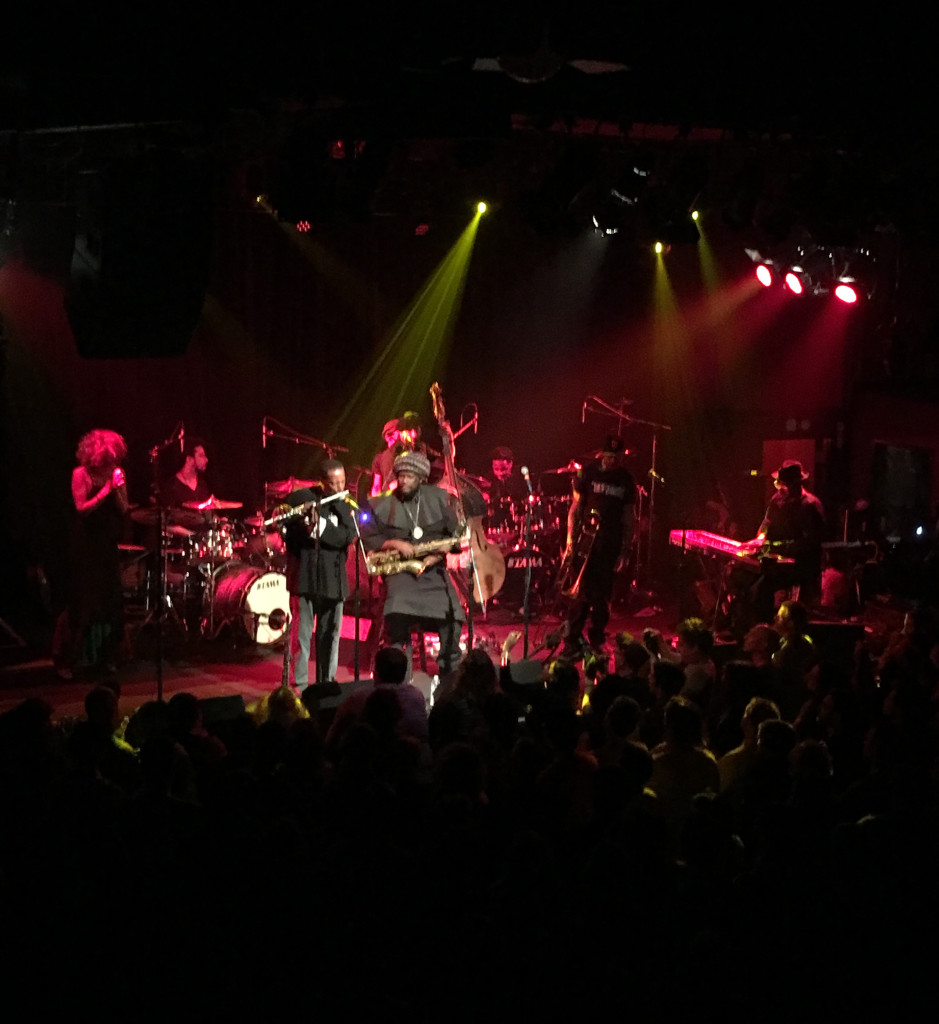 Between Kendrick, Kamasi, Thundercat and several others associated with TDE and Brainfeeder, we're certainly seeing a renewed interest in jazz. As the musical pendulum swings farther and farther towards Ableton-assisted live performances, synth dominated arrangements and tempo automation, Kamasi & Co's entirely human musicianship was a most refreshing performance.
You can pickup Kamasi Washington's The Epic album here.