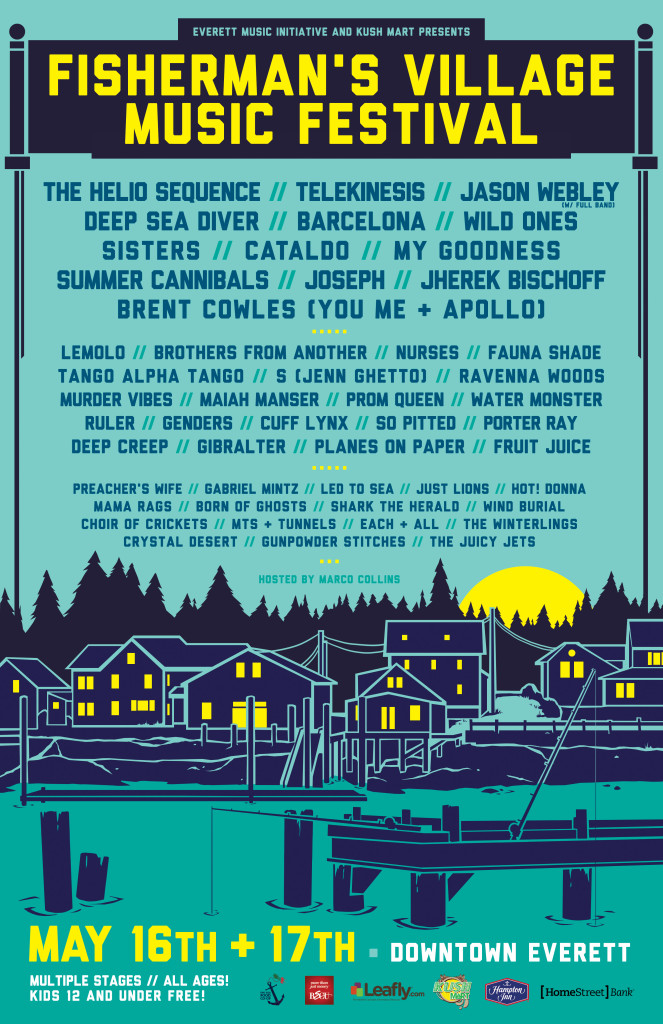 Hot on the heels of Capitol Hill Block Party's lineup announcement, Fisherman's Village festival announced their lineup this morning. The second annual fest takes place just north of Seattle in Everett, WA. This year's festival goes down May 16 & 16, a few weekends before Sasquatch 2015. Fisherman's Village features a number of Seattle acts, including Telekinesis, Deep Sea Diver, Barcelona, SISTERS, Cataldo, Lemolo, Ravenna Woods, CUFF LYNX and more. Portland is also represented with Helio Sequence, Wild Ones, Tango Alpha Tango and more. You can early bird tickets for $40 now.
Fisherman's Village Music Festival Lineup
THE HELIO SEQUENCE TELEKINESIS JASON WEBLEY (w/ full band) DEEP SEA DIVER BARCELONA WILD ONES SISTERS CATALDO MY GOODNESS SUMMER CANNIBALS JOSEPH JHEREK BISCHOFF BRENT COWLES (YOU ME & APOLLO) LEMOLO BROTHERS FROM ANOTHER NURSES FAUNA SHADE TANGO ALPHA TANGO S (JENN GHETTO) RAVENNA WOODS MURDER VIBES MAIAH MANSER PROM QUEEN WATER MONSTER RULER GENDERS CUFF LYNX SO PITTED PORTER RAY DEEP CREEP GIBRALTER PLANES ON PAPER FRUIT JUICE PREACHER'S WIFE GABRIEL MINTZ LED TO SEA JUST LIONS HOT! DONNA MAMA RAGS BORN OF GHOSTS SHARK THE HERALD WIND BURIAL CHOIR OF CRICKETS MTS & TUNNELS EACH & ALL THE WINTERLINGS CRYSTAL DESERT GUNPOWDER STITCHES THE JUICY JETS AND MORE...