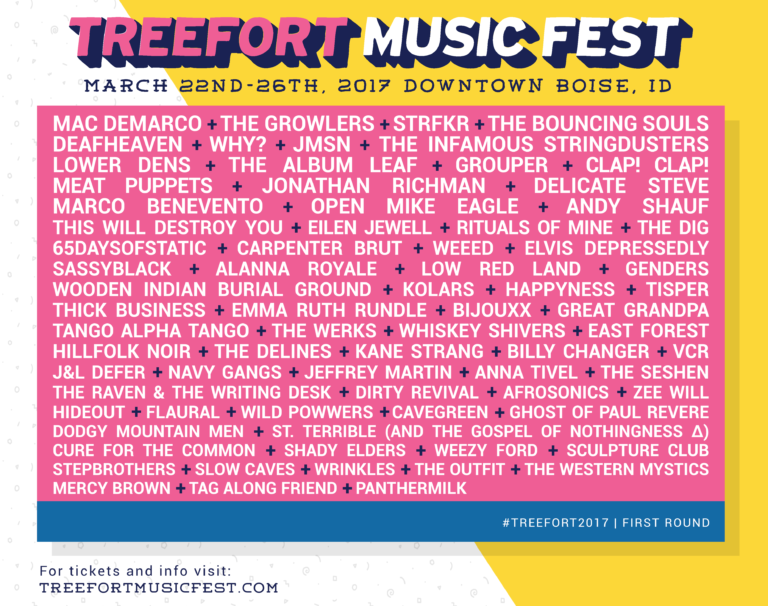 Boise, Idaho's sixth annual Treefort Fest announced the first iteration of their 2017 lineup this morning. Treefort will return March 22-26, 2017. You can snag a full five day pass for the ridiculous price of $165 here. The initial Treefort Fest 2017 lineup includes Mac DeMarco, Meat Puppets, Delicate Steve, Jonathan Richman, WHY?, Lower Dens, Deafheaven and more. You can view the full lineup below. And make sure to say tuned for news on our Treefort 2017 showcase.
Treefort Fest 2017 Lineup
65daysofstatic
Afrosonics
Alanna Royale
Andy Shauf
Anna Tivel
Bijouxx
Billy Changer
Carpenter Brut
Cavegreen
Clap! Clap!
Cure for the Common
Deafheaven
Delicate Steve
Dirty Revival
Dodgy Mountain Men
East Forest
Eilen Jewell
Elvis Depressedly
Emma Ruth Rundle
Flaural
Genders
Ghost of Paul Revere
Great Grandpa
Grouper
The Growlers
Happyness
Hideout
Hillfolk Noir
J & L Defer
Jeffrey Martin
JMSN
Jonathan Richman
Kane Strang
KOLARS
Low Red Land
Lower Dens
Mac Demarco
Marco Benevento
Meat Puppets
Mercy Brown
Navy Gangs
Open Mike Eagle
Panthermilk
Rituals of Mine
SassyBlack
Sculpture Club
Shady Elders
Slow Caves
St. Terrible (and the Gospel of Nothingness)
Stepbrothers
STRFKR
Tag Along Friend
Tango Alpha Tango
The Album Leaf
The Bouncing Souls
The Delines
The Dig
The Growlers
The Infamous Stringdusters
The Outfit
The Raven and the Writing Desk
The Seshen
The Werks
The Western Mystics
Thick Business
This Will Destroy You
Tisper
VCR
WEEED
Weezy Ford
Whiskey Shivers
WHY?
Wild Powwers
Wooden Indian Burial Ground
Wrinkles
Zee Will