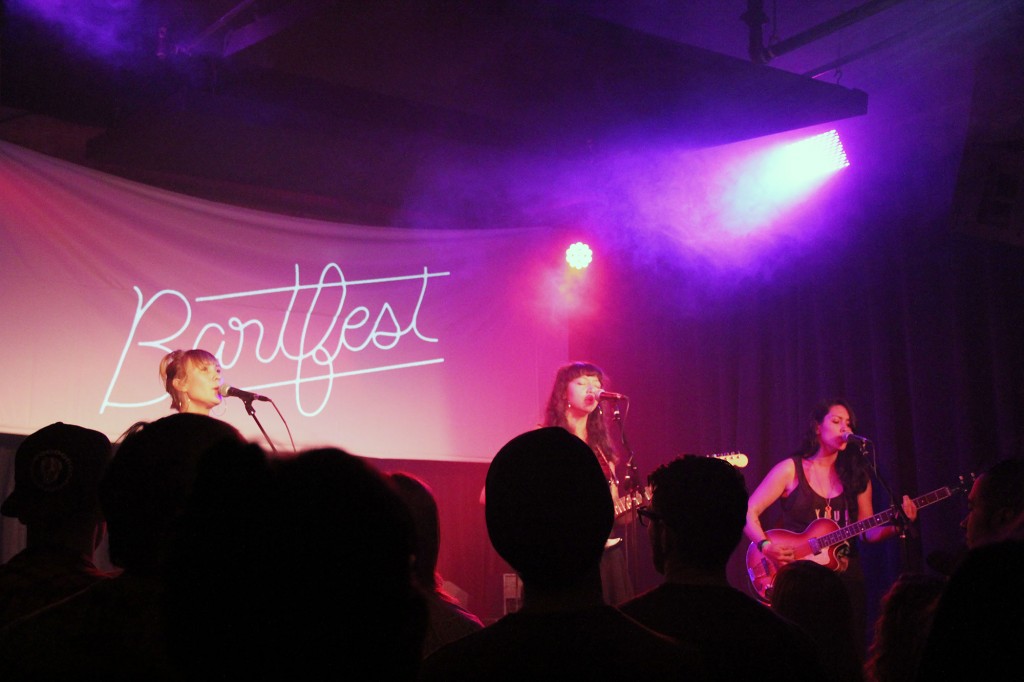 This weekend, Spokane, Washington's The Bartlett hosted their inaugural Bartfest. The festival featured 30+ bands across three days and two venues. Check out our set reviews and photos below. The Bartlett regularly hosts concerts in Spokane, so check out their calendar. [Photos by Karli Ingersoll, Kaarin Swanson and Derrick Oliver]
By: Jordan Satterfield
No Age:
The first headlining performance of the festival was arguably the best, as No Age brought enough energy (and volume) to satisfy an entire weekend. The duo careened through a career-spanning set that included old highlights like "Boy Void" and "Teen Creeps," as well as newer, more introverted material like "C'mon, Stimmung" and the brilliant "I Won't Be Your Generator." The most excitable material--mid-career cuts like "Glitter" and "Fever Dreaming"--proved the most enduring, with loop-heavy crashes of shoegazing punk that the guys pulled off with finesse to spare.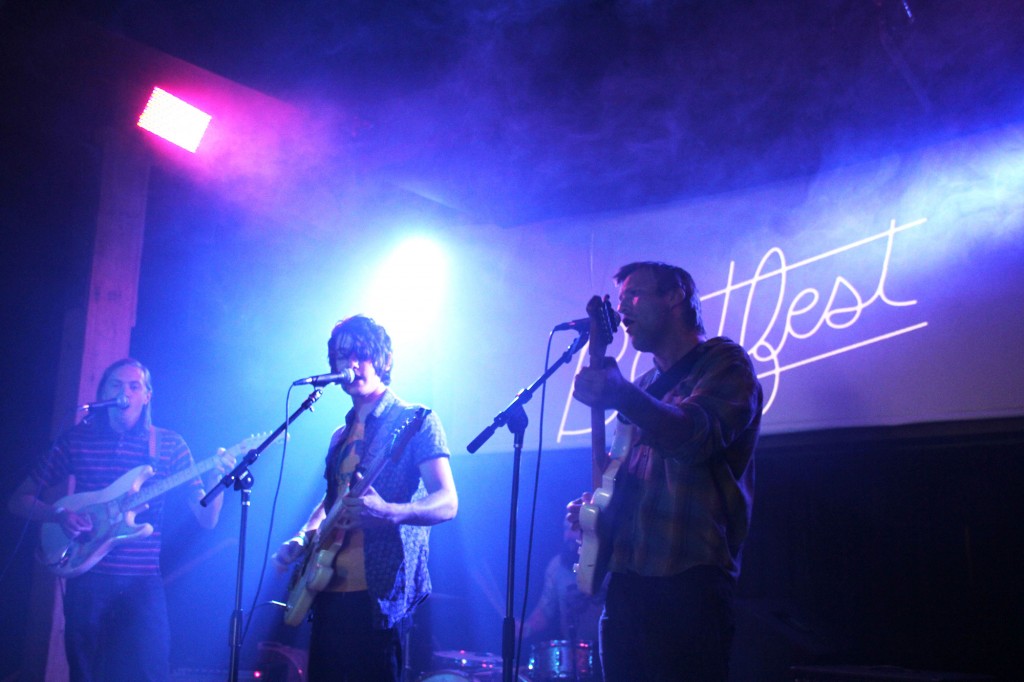 Normal Babies:
Spokane locals Normal Babies kicked off 
Saturday
 with an afternoon show at an overwhelmingly underpopulated Bartlett--no doubt due to its early start time of 
3:00pm
. It's a damn shame too, because Normal Babies shredded through a tight, crisp set that featured most of the group's strongest material. Everything seemed to be on fire, from the piercingly bright guitars to the vocal interplay between songwriters Ben Jennings and Matt Lakin. After opening with fan-favorite "Cosmic Diarrhea," they worked their way down a sharp, lull-less setlist with performances deserving of a headline spot.
Glasser:
Singing along to a pre-recorded backing track is almost never a recipe for an enthralling live performance, but when you have a voice as truly arresting as Glasser's Cameron Mesirow, it's a pretty perfect setup. After belting two beautiful a capella traditionals, Mesirow made her way into her original Glasser material and absolutely killed. Her voice is truly stunning, the kind of voice that warrants being witnessed in person, just to see the other-worldy control and charming subtlties at work. The fact that her music is a collosal, Bjork-inspired harmonic jungle was just icing on the cake.
Blouse:
Blouse was the big surprise success of my Bartfest weekend, an honest and thoughtful dream pop band with a deliberate twist of psychedelic rock spun in. Somewhere between twisting early 60s psych, gnarled 80s post-punk and contemporary synth-pop is where you find this sound, as atmospheric as it is readily calculated. Above all, Blouse is a pop band, tonally and emotionally warped in the best possible way. Their set had the air of an aged, dusty LP--crackling, treble-rich and effortlessly timeless.
By: Ceilan Hunter-Green
La Luz:
"We're gonna take five," Shana Cleveland says apologetically to the crowd who's gathered in front of the Bartlett's little stage. They've finished their soundcheck, intermittently dancing and singing along to the Haim songs playing over the PA system, and their "ooh"s and "check check"s are enough to assemble a sizeable crew of eager fans ten minutes before they're scheduled to begin. Once their set starts, La Luz (one of the most popular acts of the festival) performs their surf rock with equal parts unaffected cool and easy familiarity. They play a few songs before directly addressing the crowd, but we're eating it up, watching drummer Marian Li Pino and bassist Lena Simon communicate through nods and laughs while executing their intricate parts flawlessly, and seeing Alice Sandahl leave her keyboard for a moment to dance in step with Cleveland, who's
shredding
it. The band is, incredibly, even tighter and sunnier and more driven than their recorded selves, and watching them do it all in such total comfort is exhilarating. It feels like they're having us over to their house for the first time: it's a little awkward, but we're all excited to be there. Cleveland chats to us, describing a dream she had in which the band was ZZ Top, and later starts "Wanna Be Alone" with her guitar balanced on her head. Since she can't see through the stage lights, she drops to her knees to make sure we're dancing during their "Soul Train" tribute. When the action stalls, Li Pino nods to Sandahl. "Alice, go dance." She jumps down from the stage, and dances in the crowd. La Luz are great hosts.
Young Magic:
Before Young Magic's set begins, the screen behind the stage is projected with an image of whirling dervishes. It feels like the title to their show, the introduction to who they are as musicians, and it's pretty accurate. Young Magic is a counterpoint to the rest of the festival: a theoretical band, a band that is about the sound and the experience and the ideas, not just about the actual music. Although that has been leveled at them as a criticism of their recorded work, it really, really worked as a performance. Their chillwave, dreampop music is purposefully crafted and technically impressive (their current touring drummer, Daniel Alejandro Siles Mendoza, is stunning to watch), and it's hard to take your eyes off of Isaac Emmanuel and Melati Malay. Though there isn't much in the way of audience engagement—and when there is, the reverb on Malay's mic makes her impossible to understand—their intensity, dancing and blissed-out expressions make them captivating. In the background the projections changed from scenes from the 1968 Soviet film
The Color of Pomegranates
to a roughly computer-animated dog chasing birds to images of the ocean, the sky, and forests. The songs from 2012's
Melt
are the highlights, especially "Sparkly," "You With Air," and "Drawing Down The Moon," which are all fantastic songs. But even when the music doesn't reach those fever pitches, it stays at a impassioned level of eagerness, and Young Magic's devotion to the idea of a concert as an aural, visual, communal experience makes their set one of the best of the festival.
Telekinesis:
The stage setup for Telekinesis lets you know right away who to watch. Michael Benjamin Lerner's drum kit is set up front and center, and his mic stand juts about eight feet into the air before plummeting back down to his face. Though he's seated, Lerner's onstage presence is frenzied and arresting, the way you'd expect from a man whose band has the energy of a chest bump condensed into music. (At one point he hits one of his cymbals so hard with a maraca that the cymbal collapses and they have to reassemble it once the song's over.) He's also a personable front man, and though it's the first time Telekinesis has played in Spokane, he knows more about this town than most of the other bands and some of the city's residents do. Dawn of the Donut, a local donut shop, comes up: "Why is it closing?" he asks, and it's actually the first I've heard of it. He and an audience member chat and decide that the business's failure to their slender opening hours (8 to 10 AM, apparently). This community feel continues when Danielle Sullivan from Wild Ones joins Telekinesis onstage for their final song, "Tokyo." It seems like she maybe forgets the words here and there, but everyone on stage is having far too much fun to worry about it. This is their last stop on the tour supporting last year's
Dormarion
, and so when the song ends in amorphous noise, it feels as though they, like us, are savoring the last seconds of the Telekinesis moment.
Nite Jewel:
Nite Jewel initially seems a little baffled that she's come all the way to Spokane and there's only a handful of people standing in front of her. "The concert is starting now," she says, to the folks scattered at tables behind the dance floor. And then the concert begins. Roberta Gonzales often performs with a live band, but Sunday night at Nyne she was alone with her keyboard and laptop, which gave the show a more intimate feel. We saw a pared-down version of the larger-than-life Nite Jewel world in the projections that moved on the screen behind her: first a cutout figure over a flat landscape, then the image of a moving body over an open mouth, then two people in front of what looked like the wall of a kindergarten. After playing "One Second of Love" and seeing the dance floor begin to liven up, she murmured, "Spokane, you like dancing?" and picked up the pace with "What Did He Say" and "Nowhere to Go." The quiet intensity and contained quality of the recorded songs transformed into a dynamic and watchable live performance, and as she moved around the stage—coming up to her monitors, swaying by her keyboard—the performance felt honest and personal, as though she were telling us the stories in these songs directly, playing just for us.