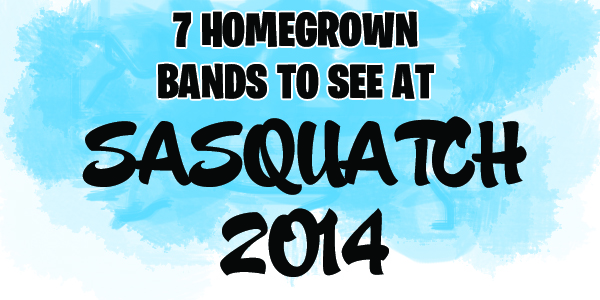 Sasquatch Festival 2014 kicks off in just 24 hours. While the second weekend flopped, Memorial Day will feature a hell of a lineup that brought on a quick sell-out. Sasquatch posted last night that a bundle of new tickets are available, so check up on that if you're still trying to go and the Craigslist swindles want your entire month's rent. We posted a Sasquatch 2014 playlist earlier to jam on. Given the Pacific Northwest's propensity for grub and organics,  here are our 7 homegrown bands at Sasquatch 2014.
Damien Jurado: 
Damien Jurado
has released several dozen albums (counting EP's and singles) and been musically active for nearly two decades, so it's bizarre he hasn't reached greater national acclaim at this point. But no matter. Many Seattle and PNW musicians cite him amongst their greatest influences and he's certainly got plenty of traction in the upper left. His newest albums, 
Maraqopa
and 
Brothers and Sisters of the Eternal Son, 
were forged with Richard Swift and demonstrate Jurado's ability to keep changing things up. Don't miss a chance to hear Damien Jurado's new material and stellar catalog on Friday at 9:15 on the Yeti Stage.
Mary Lambert: 
Seattle native Mary Lambert probably came to many people's attention via her vocal contribution to Macklemore & Ryan Lewis' "Same Love" track. And while that exposure is excellent for her, her music definitely stands on her own right. "She Keeps Me Warm" rode similar vibes from same love and offered an example of Lambert's poignant, personal style--oft compared to Adele--that is on display with her late 2013 album
Welcome to the Age of My Body. 
Catch Mary Lambert on Friday at 1pm at the Sasquatch Stage.
The Physics: 
Making music together since the turn of the millennia, The Physics represent Seattle's South End and certainly contributed to the 206 hip-hop scene that has blossomed over the last decade. While Macklemore, Blue Scholars, Shabazz Palaces and others may get more lime light, the Physics have been crafting intricate and varying tracks with high replay value. It's only been a few months since they dropped
Digital Wildlife,
 but I can't even count how many times I've spun that album. See the Physics at 1pm on Friday at the Bigfoot Stage.
Kithkin: 
Much has been written about
Kithkin
on this site, so I won't pile it on too much here. Simply put, they're one of the most entertaining live bands you can catch and I guarantee they'll be pumping as much energy into their Sasquatch set as any band at the festival this weekend. Moreover, Sasquatch acts as
Part I of their album debut weekend
. Catch Kithkin's raw intensity and utter passion on Friday at 2pm on the Narwhal Stage.
Radiation City: 
Rose City quintet Rad City was named Portland's
Best New Band
in 2012 and kept the ball rolling. Last year they released their 
Animals in the Median
album to critical and fan praise, it's well worth a listen.They will begin recording a new album with John Vanderslice at SF's Tiny Telephone this August and their Sasquatch set will feature new tracks from said album. You can bask in their dreamy throwback sounds and warm harmonies on Saturday at 2pm on the Yeti Stage.
Dude York: 
Seattle's Dude York is the real deal. We were fortunate enough to have them play our
Treefort Showcase
this year, which became a real treat. The trio brings an upfront, no bullshit, technically tight, yet punkishly raw live sound that's hard to ignore and easy to love. Dude York's flavor of garage rock/pop is simultaneously quite aware yet loose and fun. Their Saturday afternoon 3pm set on the Narwhal Stage will be a perfect shot-in-the-arm. Plus, Andrew and Peter's stage banter may be worth the Sasquatch admission alone.
Tacocat: 
Even the spryest of spring chickens will start feeling festival fatigue by Sunday. And if not, you're doing Sasquatch wrong. Anyhow, the good time vibes of Seattle's Tacocat will be an excellent pick me up on Sunday when they open up the Yeti Stage at 1pm. So dust off your hangovers, slug down whatever fluids you need and get out there to dance in the sun (it'll be mid 70's this weekend) as Tacocat delivers the musical equivalent of a pizza party.